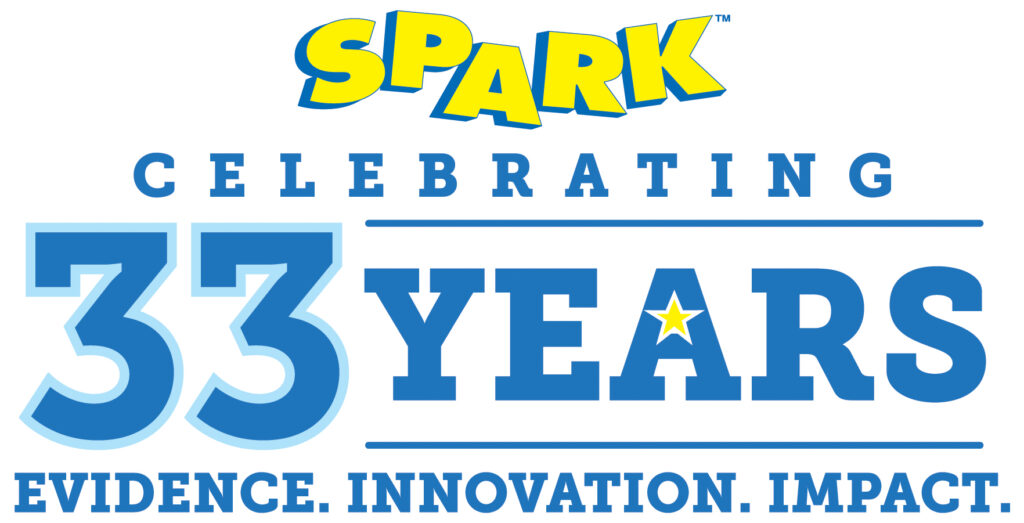 Follow
#SPARK33Years

on Twitter for all things – past, present, and future.
33 Things to Celebrate About SPARK on our 33rd Birthday!
1. Initiated in 1989 via a National Institutes of Health (NIH) research grant involving elementary schools randomized into intervention and control conditions.

2. Is the most evidence-based physical education (PE) program ever!

3. Increases student engagement moderate to vigorous physical activity (MVPA) during PE classes.

4. Improves physical fitness scores.

5. Increases movement and sport skills (e.g., throw, catch, kick).

6. Improves academic achievement as evidenced by higher scores on standardized tests.

7. Increases teacher effectiveness (quantity and quality) of instruction.

8. Enhances student enjoyment of PE.

9. Positive effects sustained over time.

10. Elementary PE programs were disseminated nationally beginning in 1993.

11. Expanded to middle schools in 1996 with another NIH grant–Project M-SPAN (Middle School Physical Activity and Nutrition).

12. Increased physical activity opportunities for students on campus during before and after school components. This became SPARK Active Recreation – today now called SPARK After School program which launched in 2001.

13. SPARK After School became the first evidence-based physical activity program available to after school and recreation staff, youth leaders, and out of school physical activity providers.

14. SPARK Middle School moved to dissemination in 2001.

15. SPARK Middle School provided more healthy food choices at school.

16. Improved PE lesson content and teacher instructional practices.

17. Participating middle school/junior high PE teachers evaluated professional development sessions very highly.

18. Early Childhood was released in 2004 and gave Pre-K, WIC, childcare, Head Start, and preschool teachers an effective and easy to follow program.

19. Began studying high school physical education via a grant from Highmark Blue Cross Blue Shield in Pittsburgh and showed MVPA and PE successes among the staff and students in participating high schools.

20. SPARK High School began dissemination in 2008.

21. SPARK was first to offer Pre-K through 12th grade PE & PA programs that aligned to national and state standards and included a published scope and sequence.

22. SPARK has been used in university teacher preparation courses since 1996 and became SPARKuniversity in 2007.

23. Launched SPARKfamily.org, a digital platform that houses SPARK curriculum for all programs, in 2008.

24. Developed an online training program, SPARKecademy, to support remote professional development and complement SPARK on-site training programs.

25. Added SPARK Active Classroom program.

26. Introduced, SPARK Inclusive, a program created for Adapted Physical Education instructors.
27. SPARK joined the Gopher Sport family (2019).

28. SPARK me-we-3, fun activities children can do inside or outside, alone or with a guardian or friend(s) (2020).

29. Became the first PE resource to include an app with each physical education program igniting technology in every teaching scenario (2021).

30. Over 90 publications prove SPARK works & lasts.

31. SPARK is the only available resource that incorporates lessons learned from 3 NIH funded research grants.

32. Over 200,000 teachers/staff worldwide have been exposed to SPARK resources and training in person or online and over a MILLION Pre-K through University students have benefited from SPARK content and methodology.

33. We have loved supporting active healthy lifestyles for 33 years!